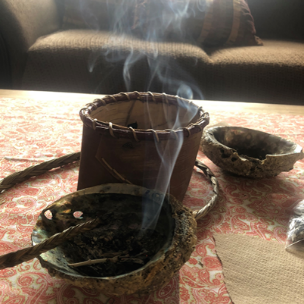 "Traditional laws are handed down to us from above, from the Creator. They are by the people, for the people."
– Elder Jimmy Mishquart, Biinjitiwaabik Zaaging Anishinaabek
Nokiiwin Tribal Council developed the Restorative Justice Program for its member communities to provide support in practicing the Anishinaabe principle of Mino-Bimaadiziwin – a feeling of spiritual, physical, emotional, and mental balance that is at the heart of Indigenous conceptions of wellness and justice. The goal of Restorative Justice is to empower the whole community in resolving conflict, restoring, and strengthening relationships, and helping individuals on their path to healing and wellness.
"Indigenous legal traditions are like a quilt. It is us that have threads of knowledge. We have to start to put them together."
– Elder Marlene Pierre, Fort William First Nation
Restorative Justice practices allow for:
A sacred and safe space to talk, and both to receive and share knowledge and wisdom.
The use of ceremony is a critical way the people find their identity and can seek guidance.
The community can help to care for a person by offering support, guidance, encouragement.
Acknowledgement that it is natural for people to make mistakes, this does not make one a bad person.
Teachings like the Seven Grandfather Teachings are there to help us live in a good way.
Allows for community to work together to make things better for the next generation.
A place of understanding of how colonization, including Indian Residential Schools and the Sixties scoop, continue to affect Indigenous people.
Helps us to reclaim our traditional laws and justice practices.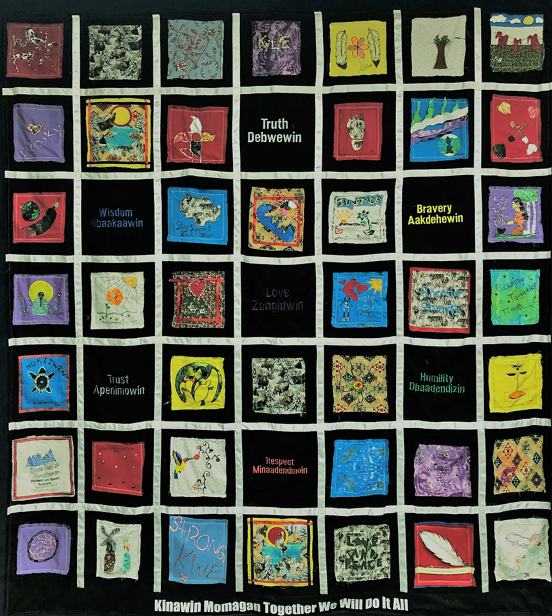 Depicted here is the Access to Justice Quilt. Members of Nokiiwin's five communities beautifully crafted patches that speak to what justice means to them at our Access to Justice Forum 2019 titled: "Kinawin Momagan" Together We Will Do It All.
Nokiiwin's Restorative Justice Program will continue to conduct information sessions and training via video-conferencing. Requests for information sessions, training, and referrals for criminal diversion and child welfare matters can be directed to the Restorative Justice Coordinator below.
Nokiiwin Tribal Council Restorative Justice Program is committed to working with communities to provide support as they develop their own restorative justice programs.
For further information please contact:
Thomastine Shawayahamish, Restorative Justice Coordinator
Nokiiwin Tribal Council
Telephone: (807) 474-4230