Nokiiwin's interest in the mineral resource sector stems from recommendations from consecutive strategic planning sessions in 2013 and 2015. Communities identified the need to create additional capacity at the council level to support those communities facing increased mineral exploration within their territories.
Nokiiwin has created the position of Mineral Development Advisor (MDA).
Role of the Mineral Development Advisor (MDA)
Exploration Plan and Permit Applications
The MDA position is available to support all Nokiiwin communities as they review and process Early Exploration Plan and Permit Applications.
Closure Plans and Closure Plan Amendments
The MDA is available to assist communities by explaining technical issues, recommending independent expert review, identifying and assessing potential impacts and coordinating formal responses to MNDM. The MDA is also available to facilitate site visits and coordinate with the project proponents, on a case-by-case basis. It is also part of the role of the MDA to support and attend site visits where communities are given the opportunity to visit the location where early exploration, mining activities or site rehabilitation is taking place.
Economic Development and Employment Opportunities
The MDA can help identify mineral sector employment opportunities through developing and monitoring government, proponent companies and industry partners.
Outreach and Education
The MDA also provides community outreach and education opportunities for community members in their communities, including mineral prospector training and information and explanation on mineral sector trends in the province. They also work with MNDM to update communities on changes to the Ontario Mining Act.
Occupational Health and Safety and the Environment
Nokiiwin is committed to promoting good health and safety practices across the region.
Highlights
International Conferences
In May 2014 Chief King travelled to Washington DC at the invitation of the International Finance Corporation (IFC) to present at the highly influential "IFC Sustainability Exchange". His presentation was very well received as he highlighted the many challenges facing First Nations in Canada.
Capacity Development
2015 – Investment Readiness: Treaty Issues seminar attended by leadership and community representatives.
Community Meetings
Greenstone Gold Mines presents information on proposed mineral exploration activities within their traditional territory, to Bingwi Neyaashi Anishinaabek members in 2016.
CAMA 2017
On November 12-14, 2017 one delegate from each of our member communities attended CAMA's 25th-anniversary celebrations in Toronto. The phrase "Water for Life, Mining for need, Achieving Balance." was the focal point for this conference and the starting point of each discussion. The conference was very well-received and allowed for delegates to network with people from industry and First Nation communities and organizations native-wide. Four panels, among other topics of discussion, took place during the conference including the Aboriginal Water Panel - Significance of "Water for Life", industry Panel - Expanding role of minerals in Aboriginal community development and the social economic benefits, Youth Panel- Achieving Balance, and the Legal Panel - Water Rights.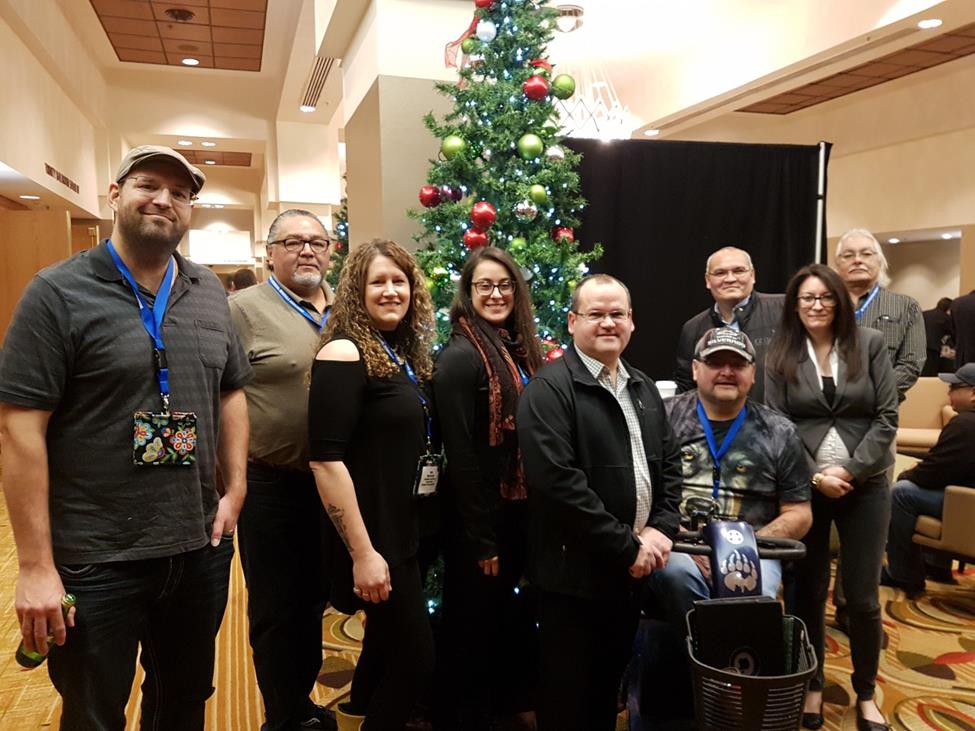 Mine Reclamation Field Trip
In October 2014 a group of community members visited the now reclaimed Shebandowan Mine site, to see first hand how a reclaimed mine site is managed.
2015 Prospector Training
Funding for prospecting training has come from a grant from CORDA and support from NWOPA and MNDM.
PDAC 2018
On March 4-7th, 2018, two delegates from each of our member communities attended the PDCA convention in Toronto for the 6th consecutive year. Numerous networking opportunities were available including the Ontario and Northern Ontario sessions at the Steamwhistle Brewery, Awards Gala and After Party, Diversity in Mining Awards Ceremony and the Grand Finale Networking event. Two communities had the opportunity to meet with a major proponent in their area. Nokiiwin also hosted a team meeting with all delegates to discuss working together and how to approach mineral development and early exploration in a unified manner.