Nokiiwin, mental health awareness, help and resources.
The G'minoomaadozimin "We Are Living Well" Health & Safety initiative has been moving forward with great momentum and we couldn't be more excited. This initiative continues to be aimed to enhance the health and safety reach to vulnerable workers, families and communities, shift attitudes and behaviour, create a First Nation centric health and safety culture.
The G'minoomaadozimin Steering Committee is very proud of Our Respectful Community Policy based on the Seven Grandfather Teachings. Our Respectful Community is our depiction of the legislated Zero Tolerance policies on violence. The goal of the G'minoomaadozimin Steering Committee is to have all Member First Nation communities adopt the Our Respectful Community policy. The visual captures the teachings and the intention for how each of us respects one another, our workplace, and our community.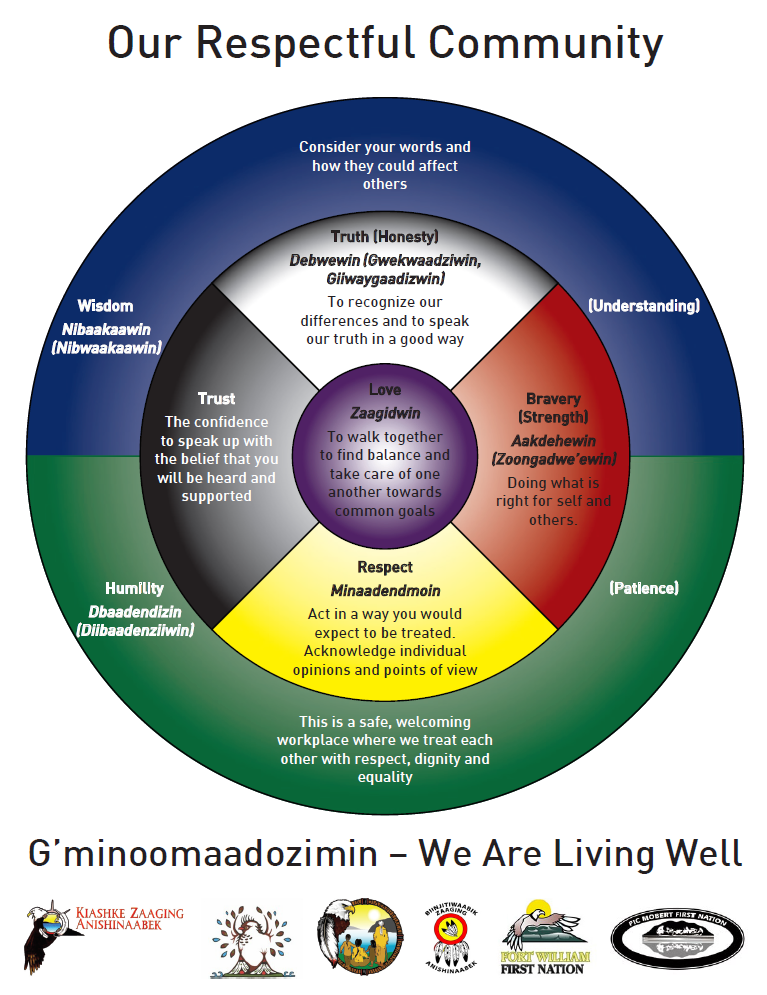 The G'minoomaadozimin initiative has been able to provide training such as, New and Young Worker Health & Safety, Lateral Violence and Harassment Awareness, and Work/Life Balance to Member First Nations. We have also recently taken a Training the Trainer program titled Our Journey Away from Lateral Violence. As a result of this training, we are in the process of developing several Kindness Workshops that are already being delivered to our communities as well as external organizations. These workshops aim to build the skills, knowledge, relationships, and values for addressing lateral violence in our communities. This will foster culture-based practices for supporting positive workplace and community relationships, tools for addressing lateral violence, and strategies for strengthening safe, healthy workplaces and communities.
Our Journey Away from Lateral Violence is the next phase in our G'minoomaadozimin Initiative and the Kindness Workshops are an integral step in forming the healing and empowerment models that our communities will use going forward.